Wes Platt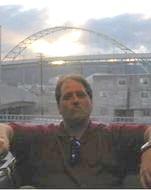 Also known as Brody in the MU*ing world and Stamp on World of Warcraft's Earthen Ring server, Wes is the creator and chief developer of OtherSpace. Check out the Grand Unified Theory of OtherSpace for more about the project's evolution.
He was born on Sept. 22, 1966. He's a 1984 graduate of Winter Park High School and a 1992 graduate of the University of South Florida.
He worked from 1991 to 2003 as a reporter and editor for the St. Petersburg Times. He left journalism to focus on the development of Chiaroscuro, an original-theme fantasy roleplaying game.
In 2004, he wrote the first official OtherSpace novel as part of National Novel Writing Month. OtherSpace: Red-Eye Flight is available as an ebook and in paperback from Cafepress.com.
He has been a longtime contributor to discussions at Top MUD Sites. He's been profiled in the Tampa Tribune and has appeared on Orlando's Radio Sci-Fi show. He also has done freelance writing for OrlandoCityBeat.com.
For six months, in 2005-2006, he lived in Washington state, near the Oregon border, where he worked as a technical writer and started development of a new text game, called Necromundus.
He now lives in Alabama, working as a designer for Bit Trap Studios in Huntsville.
The growing list of characters he has played on the games of jointhesaga.com can be found at this link.
Here's his Facebook page.
External Links
Edit
Jointhesaga.com Merchandise
Edit
Community content is available under
CC-BY-SA
unless otherwise noted.